Introduction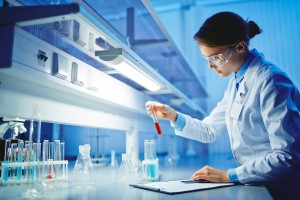 Doctor of Philosophy in Pharmacy
The programme is research oriented and has the aim of advancing pharmacy knowledge with the major requirement being the conduct and defence of a doctoral thesis. Within one year of registration, the candidate must submit a thesis proposal to the Panel for approval. This proposal will prepare in close cooperation with the supervisor.
Candidates will also be required to attend and participate in research seminars and other activities organised by the School of Pharmacy. Courses or other supplementary instruction will be tailored to the need and research interest of the candidate as deemed appropriate by the Graduate Panel in agreement with the supervisor.
Fields of Specialization
The thesis submitted has to contain report of an independent research investigation in one of the following areas of interest that has direct relevance to the science and practice of Pharmacy:
Pharmaceutical Sciences

Pharmaceutics (Physical Pharmacy, Biopharmaceutics / Pharmacokinetics, Pharmaceutical Technology)
Medicinal and Pharmaceutical Chemistry
Drug Delivery and Targeting
Pharmacogenetics / Pharmacogenomics

Pharmacy Practice

Pharmacoeconomics
Clinical Pharmacy
Programme Requirements
Period of Study
Full-time : 3 years (maximum 7 years)
Programme Requirements
In addition to satisfying the programme requirements and other requirements as prescribed by the School, postgraduate students will be required to submit a research thesis and pass an oral examination in order to graduate.
| | |
| --- | --- |
| First Year | Units |
| Biostatistics | 2 |
| Coursework / Guided Studies | 4 |
| Seminar | 2 |
| Research | 7 |
| Second Year | Units |
| Seminar | 2 |
| Research | 9 |
| Third Year | Units |
| Seminar | 1 |
| Research | 11 |
| Total | 38 |
Admission Requirements & Application
Admission Requirements
Direct Entry
Meet the general admission requirements of the Graduate School, including the English Language Proficiency Requirement; and
Either:

Master's degree in Pharmacy or related discipline (e.g. biochemistry, chemistry, chemical engineering, pharmacology, etc.). Postgraduate students with a taught master degree are encouraged to apply via the M.Phil. Programme initially; or
Bachelor's degree, with honours at second upper division or above, or equivalent, and have been registered in a course of study for an M.Phil. degree at this University for at least one year and have demonstrated research ability.
Please refer to Graduate School and Flyer for additional information.
Transfer from M.Phil. in Pharmacy
Candidates enrolled in the M.Phil. programme in Pharmacy may, on the recommendation of their supervisor(s) and the Graduate Division, be permitted to transfer to the Ph.D. programme provided that they have obtained a Bachelor degree with second class honours upper division or above, or equivalent, and have successfully completed one year of full time study (or part time equivalent). They should also have demonstrated research ability and completed the required courses with the establishment of a research programme of sufficient rigor and originality.
Application Method
Step 1
For applicants of Hong Kong Ph.D. Fellowship Scheme (HKPFS) only.
Apply online through the HKPFS Website and obtain a HKPFS reference number.
Non-HKPFS applicants can skip step 1.
Step 2
Apply online through the Graduate School Website
Step 3
Mail the hardcopies of the supporting documents to the School of Pharmacy. Please quote "Application to Ph.D." and your online application number on the envelope. Supporting documents required for the application are listed on the Graduate School Website.
Application Deadline
For applications who apply for the Ph.D. programme through the Hong Kong Ph.D. Fellowship Scheme (HKPFS):

1 December of each year at 12:00 noon Hong Kong Time (GMT +8 hours) (TBC)

For applicants who apply for Ph.D. programmes directly with the CUHK (i.e. non-HKPFS applicants):
Contact
Please feel free to contact us for further enquiry about the programme.
School of Pharmacy
8th Floor, Lo Kwee-Seong Integrated Biomedical Sciences Building
Area 39, The Chinese University of Hong Kong
Shatin, N.T., Hong Kong

Tel:

3943-6862

Fax:

2603-5295

Email:

pharmacy@cuhk.edu.hk