When:
2015-06-25 @ 8:45 am – 5:00 pm
Asia/Hong Kong Timezone
2015-06-25T08:45:00+08:00
2015-06-25T17:00:00+08:00
Where:
G02, Lo Kwee-Seong Integrated Biomedical Sciences Building, Area 39 , CUHK

Date: 25 June 2015 (Thursday)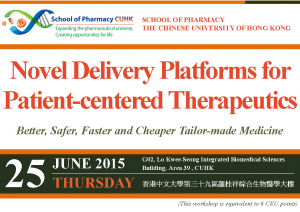 Venue: G02, Lo Kwee-Seong Integrated Biomedical Sciences Building, Area 39 , CUHK
Time: 08:45a.m. – 5:00p.m.
Customizing drug delivery to treat patients burdened with a myriad of diseases in a therapeutically and cost effective manner while meeting the vigorous regulatory standards of quality is a formidable challenge in personalized medicine. This is underscored by the important decision making role of the patient in determining the therapeutic outcome, a phenomenon commonly referred to as adherence. The objective of this one-day workshop is to highlight multidisciplinary research intended to benefit the elderly. Professor Ping I. Lee, an eminent scholar in mass transport at the University of Toronto, will keynote the scientific principles that underline the technologies of modified drug release, including those intended for nasal, pulmonary, and direct intravitreal administration. Furthermore, patients may also benefit from research in measuring blood-brain barrier permeability and from advances in digitally-based technologies for monitoring progress in drug therapy real time. In the final analysis, formulations designed to compensate for the deterioration in postural balance, manual dexterity, swallowing, and cognitive acuity commonly seen in the elderly is a timely development. Let's not forget China alone could have some 400 million people over 60 years of age by 2050. Therefore, the market demand for such formulations could be substantial.
Photos