When:
2018-07-26 – 2018-07-27
all-day
Asia/Hong Kong Timezone
2018-07-26T00:00:00+08:00
2018-07-28T00:00:00+08:00
Where:
Lecture Theater, G/F, Lo Kwee-Seong Integrated Biomedical Sciences Building (LKIBSB), Area 39, CUHK

Contact:
Ms. Kate Cheung
( 852 ) 3943 6831
Introduction
This interactive workshop is designed for prospective applicants to learn about the
MPhil
 and
PhD
programmes in the School of Pharmacy, The Chinese University of Hong Kong and the prestigious Hong Kong PhD Fellowship Scheme (
HKPFS
). Graduate training is a highly personalized experience; therefore, it is critically important that you meet the professors and their graduate students before making one of the most important decisions in your life.
We believe this workshop is an invaluable opportunity for you to launch a successful career as a researcher at the forefront of drug discovery, development, and use in a setting of your choice.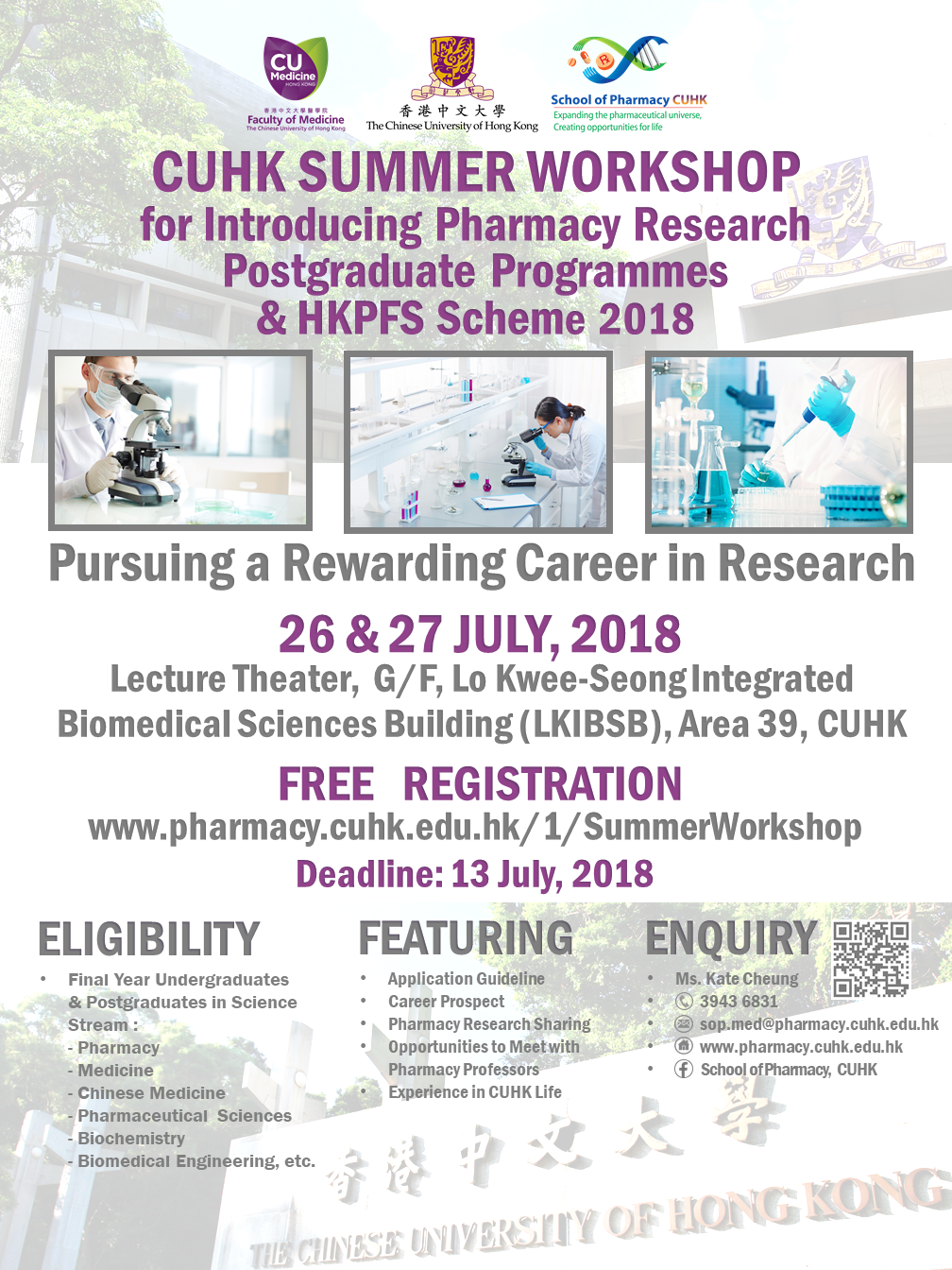 Theme:
Pursuing a Rewarding Career in Research
Featuring:
– Application Guideline
– Career Prospect
– Pharmacy Research Sharing
– Opportunities to Meet with Pharmacy Professors
– Experience in CUHK Life
Eligibility:
Final year undergraduates and postgraduates in science stream (e.g. Pharmacy, Medicine, Chinese Medicine, Pharmaceutical Sciences, Biochemistry, Biomedical Engineering, etc)
Quota: 50
Free Registration 
Deadline: 13 July 2018 (Friday), First Come First Served
Online Registration
Rundown
26 July (Thursday)
Time
Event
Presenter
09:00 – 09:30
Registration
09:30 – 09:50

20 minutes

Opening Remarks

Highlight:

– Introducing the School of Pharmacy

Prof. Joan ZUO

Director and Professor

School of Pharmacy, CUHK

09:50 – 10:50

60 minutes

Launching Your Research Career

Highlight:

– How to Develop a Career as a Researcher

– Career Opportunities in the Research Field

Prof. Vincent LEE

Research Professor

School of Pharmacy, CUHK

10:50 – 10:55
Break
10:55 – 11:55

60 minutes

Pharmacy Research (Part A) at CUHK

Prof. Joan ZUO, Director and Professor School of Pharmacy, CUHK

Prof. Kenneth TO, Associate Professor, School of Pharmacy, CUHK

CUHK Pharmacy Professors

25 minutes presentation and

5 minutes Q&A for each

11:55 – 12:00
Break
12:00 – 13:00

60 minutes

Pharmacy Research (Part B) at CUHK

Prof. Yin-ting CHEUNG, Assistant Professor, School of Pharmacy, CUHK

Prof. Sharon LEUNG, Assistant Professor, School of Pharmacy, CUHK

CUHK Pharmacy Professors

25 minutes presentation and

5 minutes Q&A for each

13:00 – 13:10
Group Photo Session
ALL
13:10 – 14:30

80 minutes

Lunch with CUHK Pharmacy Professors and Pharmacy Postgraduate Students

Highlight:

– Experience Sharing and Discussion

ALL

 

14:30 – 15:30

60 minutes

 

Study at CUHK & HKPFS Scheme

Highlight:

– Introducing Pharmacy Research Postgraduate Programmes

– HKPFS, Studentships, Travel Grants & Scholarships

– Overseas Conferences

– Admission Procedure

– Q & A Session

Prof. Kenneth TO

Graduate Division Head

Associate Professor

School of Pharmacy, CUHK

15:30 – 15:45

15 minutes

AAPS-CUHK Student Chapter Presentation
Ms. Kiko REN
ChairpersonAAPS-CUHK Student Chapter
15:45 – 16:00 

15 minutes

Closing Address

Souvenir Presentation

Prof. Joan ZUO

Director and Professor

School of Pharmacy, CUHK

16:00 – 17:30

90 minutes

School Lab Tour

Open Forum

ALL
17:30 – 19:30

120 minutes

Dinner
ALL
27 July (Friday)
Time
Event
Presenter
09:00 – 09:30
Registration
09:30 – 10:45

75 minutes

Pharmacy Research (Part C) at CUHK

– Mr. Justin SZE, MPhil Student, School of Pharmacy, CUHK

– Ms. Candy HUNG, MPhil Student, School of Pharmacy, CUHK

– Ms. Mia WU, MPhil Student, School of Pharmacy, CUHK

– Ms. Lareina LI, PhD Student, School of Pharmacy, CUHK

– Ms. JiaJia ZHAO, PhD Student, School of Pharmacy, CUHK

CUHK Pharmacy Postgraduate Students (5 students)

10 minutes presentation and

5 minutes Q&A for each

10:45 – 11:00
Break
11:00 – 12:00

60 minutes

Pharmacy Research (Part D) at Mainland Universities

– Mr. Zehong ZHANG, Pharmacy Undergraduate , Zhejiang University

– Mr. Lixiu ZHANG, Master Student, Northwestern Polytechnical University

– Ms. Wenji QIAN, Master Student, Fudan University

– Ms. Lei XU, Master Student, China Pharmaceutical University

Student Representatives

from Mainland Universities

(4 students)

10 minutes presentation and

5 minutes Q&A for each

12:00 – 12:05

5 minutes

Conclusion
Prof. Yin-ting CHEUNG

Faculty Advisor

AAPS-CUHK Student Chapter

12:05 – 13:05

60 minutes

CUHK Tour
ALL

 
Photos