When:
2012-05-12 @ 9:00 am – 5:30 pm
Asia/Hong Kong Timezone
2012-05-12T09:00:00+08:00
2012-05-12T17:30:00+08:00
Where:
Lo Kwee-Seong Integrated Biomedical Sciences Building, Area 39, CUHK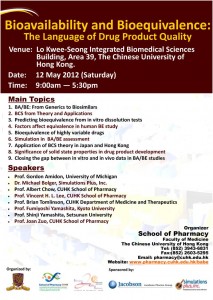 Bioavailability (BA) and bioequivalence (BE) studies are required of new as well as generic drug products. BA/BE are parameters with practical and public health value for drug manufacturers, for regulatory agencies, and ultimately for patients. From a drug product performance perspective, BA studies also benchmark the performance of the formulation(s) used in the clinical trials. The performance of further reformulation of this product and subsequently its generic equivalent is expected to be linked to the benchmark performance of the clinical trial dosage form.
The objective of this one‐day workshop is to provide a broad perspective on the theory and practice of BA/BE, with a special emphasis on the utility of the Biopharmaceutic Classification System (BCS) as an important decision making tool for assessing drug product quality. As examples, generic drug products in Hong Kong and in Japan will be profiled according to the BCS. In addition to introducing quality‐by‐design (QbD) as a proactive strategy for incorporating critical quality attributes into drug formulation design, the workshop will conclude with an open forum on the way forward for BA/BE as the language of drug product quality in Hong Kong.