When:
2015-04-22 @ 1:00 pm – 2:00 pm
Asia/Hong Kong Timezone
2015-04-22T13:00:00+08:00
2015-04-22T14:00:00+08:00
Where:
蒙民偉樓七樓一號演講室
7/F
Mong Man Wai Building
CUHK Campus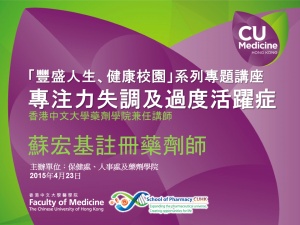 "Prosperous Life, Healthy Campus" Series of Seminars — Knowing about Attention Deficit Hyperactivity Disorder (ADHD)" 「豐盛人生、健康校園」系列專題講座 — 專注力失調及過度活躍症
Some parents are troubled for their children having problems like attention deficits, hyperactivity, impulsiveness or mental confusion. The above symptoms may affect the children's social life and learning. In this seminar, we will explain the causes and pharmaceutical treatment for ADHD.
家長悉心照顧小朋友,但有時小朋友坐立不定、難以自控,或者過份靜態、思維凌亂,令家長束手無策,亦有機會影響他們的社交生活或學習。是次講座將會探討專注力失調及過度活躍症(ADHD)的成因及藥物治療,詳情如下:
主辦單位 Organizing Units:
保健處、人事處及藥劑學院 University Health Service, Personnel Office and School of Pharmacy
費用 Fee:
費用全免 Free of Charge
語言 Language:
廣東話 Cantonese
對象 Target Audience:
所有中大教職員及學生 All CUHK staff and students