Aug
18
Thu
1st Annual Patient Counselling Competition

The CUHKSOP 1st Annual Patient Counselling Competition is here, at the brink of the School turning 30!
Join to compete with your peers, and grow together as excellent patient educators!
** Open to ALL CUHK B.Pharm. students**
Competition: Mock counselling session with "real" patients
Language: Cantonese
Event mode: In-person; onsite at Area 39
Key Details:
Prelim round(s): Week of August 1, 2022
Semi-final(s): Week of August 8, 2022
Final round: August 18th, 2022
Awards:
place winners &
Honourable mention finalists
-Award certificate and prizes
Practice and training sessions will be provided.
"As we gain momentum toward provider status, it is essential that student pharmacists embrace their role as patient educators and the art of patient counselling" – Winner of the 2018 APhA National Patient Counselling Competition
"In combating non-communicable diseases (NCD), patient counselling and empowerment should be at the heart of it all"
Oct
15
Sat
中大藥劑 本科入學資訊日2022
Oct 15 @ 9:00 am – 5:30 pm
2022 Information Day for CUHK Pharmacy Admission
Date: 15 October 2022 (Sat)
Time: 9:00am – 5:30pm (Hong Kong Timezone)
Registration: https://bit.ly/infoday2022_reg
Remarks:
Please register in advance.
Quota is limited and will be offered on a first-come-first-served basis to those who have completed the registration procedure.
Only limited quota is available for walk-in audience.
Fill out one form for each person to be served.
節目表 Programmes
節目內容
Activity
時間
Time
地點
Venue
入學講座
Admission Talk(廣東話主講 in Cantonese)
10:00am, 11:30am, 2:00pm
蒙民偉樓七樓 LT1 演講廳
LT1, 7/F, Mong Man Wai Building
「藥劑課程簡介、就業出路、學生活動」海報展覽
Posters Display
9:00am– 5:30pm
蒙民偉樓七樓平台
Foyer outside LT1, 7/F, Mong Man Wai Building
藥物 ── 從實驗室到臨床
Drugs – From Laboratory to Clinic
9:00am– 5:30pm
李卓敏基本醫學大樓六樓
6/F, Choh-Ming Li Basic Medical Sciences Building
藥劑同學/校友學習分享
Sharing by Pharmacy Students/Alumni
9:00am– 5:30pm
李卓敏基本醫學大樓六樓
6/F, Choh-Ming Li Basic Medical Sciences Building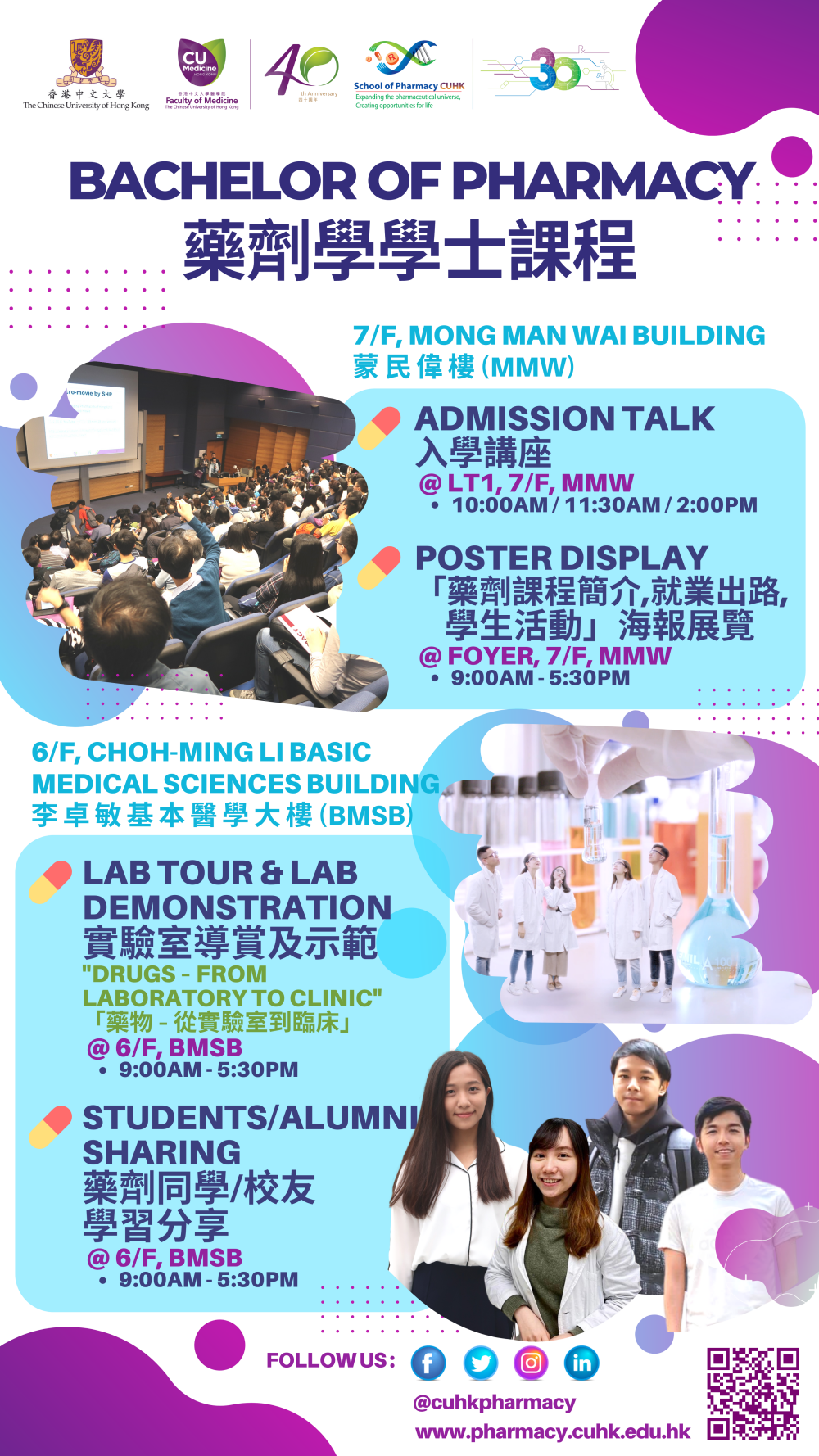 Nov
14
Mon
White Coat Ceremony 2022

@ LT 1, Henry Cheng International Conference Centre, Cheng Yu Tung Building (CYT), The Chinese University of Hong Kong (University Exit B)
Nov 14 @ 7:00 pm – 8:00 pm
LT 1, Henry Cheng International Conference Centre, Cheng Yu Tung Building (CYT), The Chinese University of Hong Kong (University Exit B) 香港中文大學鄭裕彤樓 – 鄭家純國際會議中心地下LT1演講室( 港鐵 – 東鐵線 – 大學站B出口 ): Google Map
Floor Plan: Link
COVID-19 Infection Control Measures: Link