Mar
26
Sat
CUHK Virtual Taster Fair "ZOOM Workshop on Pharmacy Practice"
Mar 26 @ 10:00 am – 12:00 pm

中大藥劑 嘅「課程體驗日- ZOOM」 ︰"您的藥物專家 — 深入了解藥劑師的工作" 將於3月26日(星期六)舉行。當日會有我哋嘅畢業生 同你分享讀藥劑嘅趣事 ﹑簡易嘅講座同 課堂嘅體驗。課堂體驗日現正接受報名,歡迎喺以下的連結登記 ~ https://bit.ly/3uQz4ZG 歡迎中四至中五學生、老師及家長參加!
CUHK Virtual Taster Fair – "ZOOM Workshop on Pharmacy Practice" – An inside look at the work of a pharmacist – your drug expert " will be held on 26 March 2022 (Saturday). The activity is now open for registration. Register NOW and join us!~ : https://bit.ly/3uQz4ZG Form 4 & 5 students, teachers and parents are welcome!
May
25
Wed
Admission Talks ( JS4525 Pharmacy ) & Mock Interview
May 25 @ 10:00 am – May 26 @ 11:00 am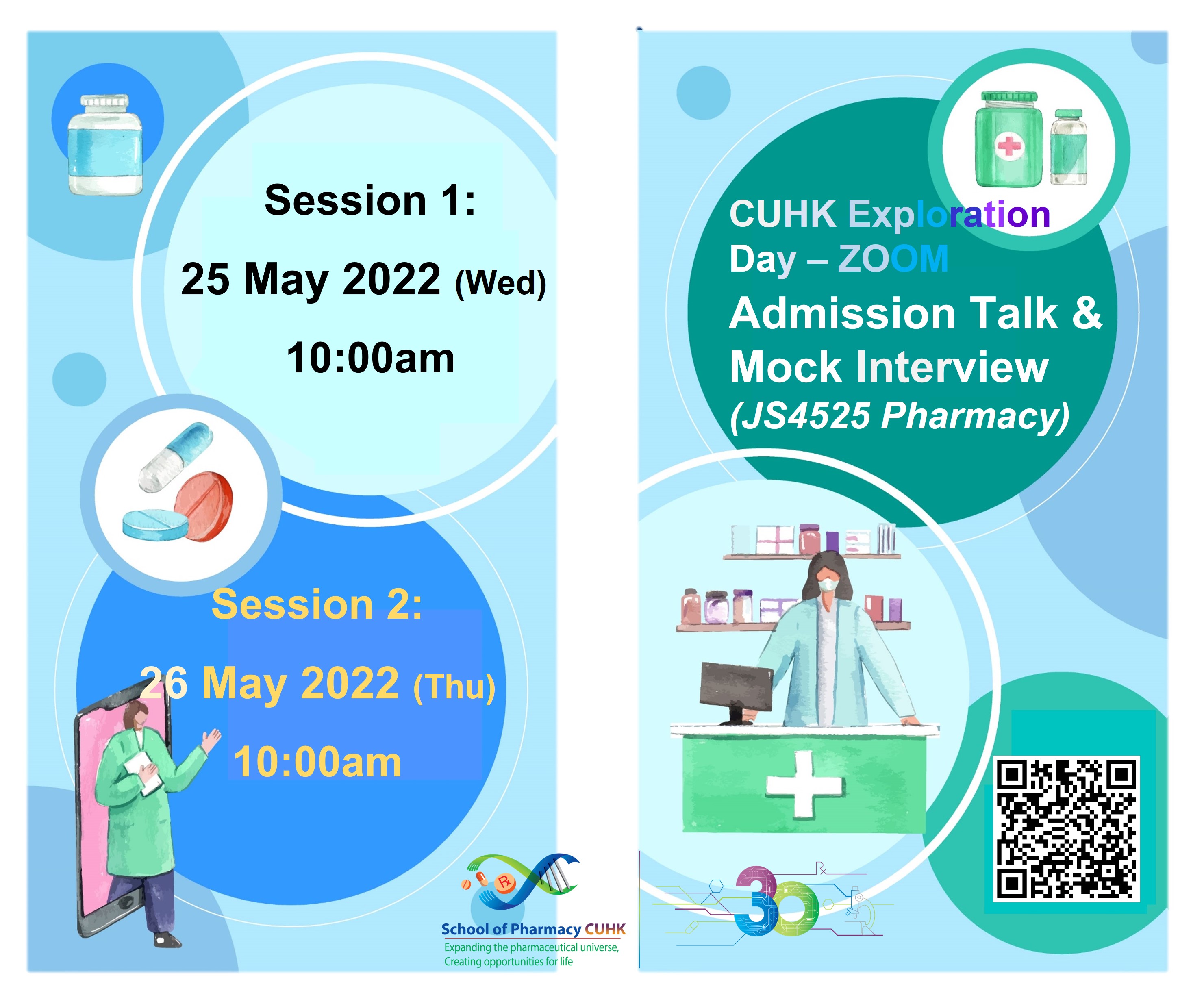 Two online Admission Talks (JS4525 Pharmacy ) will be held on 25 & 26 May 2022 (Wed & Thu). We will explain admission requirements of our Programme and provide other related information. Also, there will be a #MockInterview after the talk! If you would like to know more about CUSOP Admission Interview and how to prepare for it, please click https://bit.ly/explorday2022 to register!
中文大學藥劑學院將會在 5月25及26日舉辦兩場線上入學講座 (JS4525 Pharmacy )。我地將會詳細講解入學要求等資訊。 講座完結後仲會有個 #模擬面試!想知多啲關於如何準備 #入學面試 嘅同學們, 快D Click入呢條link https://bit.ly/explorday2022 嚟報名啦!
Jul
13
Wed
"Smart Pharmacy for the Next 30" – A webinar series to celebrate 3 decades of pharmacy education
Poster
Rundown
Part A
Part B
Register Now